Traditionally…
…brides wore their finest dress on their wedding day, regardless of the color (though white was the color of choice for brides in Egyptian and Roman times). The tide really turned once Queen Victoria wore white; this was after the invention of photography and therefore many were able to see and be influenced by her choice. Wearing white was also seen as a symbol of wealth, since it was difficult to keep clean and could not be worn again as easily as other colors.
…it was frowned upon to attend a wedding wearing black, since it is the color of mourning. These days, it's a safe bet that many, if not most, guests will be wearing black.
… you could wear white to a wedding, as a guest. Today, many think it is rude to do so, as it may upstage the bride. (A boldly patterned dress with some white, or a dress that is only partially white, such as the bodice or sash, are generally considered acceptable.) As styles change and brides' gowns vary from regal to simple and sweet, it is more likely that a guest wearing white could look like the bride – or worse, be dressed more formally! However, not everyone has an issue with white. Some brides even choose white or ivory for their attendants – remember Pippa's famous dress?
… you might suggest guidelines for your guests (black tie, semi-formal) so that they knew what was appropriate for your venue. Beyonce and Jay Z asked guests to wear white to their 2008 wedding. Kim Kardashian's guests all wore black and white.
What is considered appropriate is certainly changing!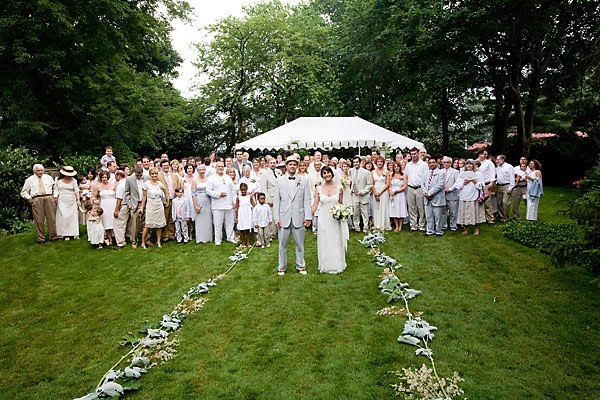 Why do some couples ask guests to wear a certain color? Perhaps the number of people you would have asked to be bridesmaids has reached unruly proportions; this would be a way to honor certain friends and family members without having an enormous bridal party. Maybe the bride and groom are wearing non-traditional colors and do not want a guest in a yellow dress to realize in embarrassment that she matches the bride. They may think the idea of people wearing the same colors is festive and will put people in a party mood. (Consider not wearing a costume to a costume party – not quite as fun, right?) In most cases, even if other reasons apply, I'm sure a major motivator is having some cool photos. The smaller the wedding, the more likely this is to work well.
Why might this be a bad idea? Sometimes finding a flattering ensemble is hard enough without the color limitation. A guest may not own something in say, orange, so now they have the added expense of purchasing a new outfit in order to attend. And what if orange is your least favorite color, or looks horrible on you? I'd venture that guests with whom you are not close might decline based on this type of request – perhaps they can't or won't spend the extra money and may be irritated at being told what to wear.
If you are asking all guests to wear a specific color, Martha Stewart Weddings advises using verbiage such as, "We invite you to join in the wedding's color palette by wearing a shade of blue" on a reception-card insert (as opposed to the invitation). If you think a significant number of guests plan to dress in a particular color, it would be helpful to include a line like the one above somewhere in the enclosures; if someone wasn't aware of the request, they may stick out and feel uncomfortable.
I think the broader the request, the more receptive guests will be. Most of us probably own something appropriate in black and white, or we could find an option in a shade of green relatively easily. Looking for just mint green or chartreuse? Not quite as easy.
My husband and I are invited to two such weddings this summer. One wedding is for a close friend who has asked all of her friends to wear shades of blue, and another is for a relative who would like family to wear silver or grey. Will I need to purchase two new dresses? Yes, but I would have done so anyway. (Traditionally, you didn't need to worry about photos on Facebook; it was easier to recycle outfits with different circles!) If it makes the bride happy, I'm happy to oblige.